Lou Schellenberg: 2017 Studio Works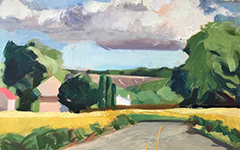 Private Artist Reception
Thursday, December 7th, 5:30 - 8:00pm
Lancaster Shops Late
Private Artist Reception
Lancaster Galleries is excited to participate in the first annual Lancaster Shops Late! Please join us and enjoy fine art, warm cider and a special selection of Fine Art and Vintage Posters available during the evening.
Thursday, December 14th, 5:00 - 9:00pm
For a full list of our recent exhibitions, visit our past exhibitions page.